Vouchers & Movie Pass:
If you are interested in buying vouchers during the lockdown period please send us an email to office@burgkino.at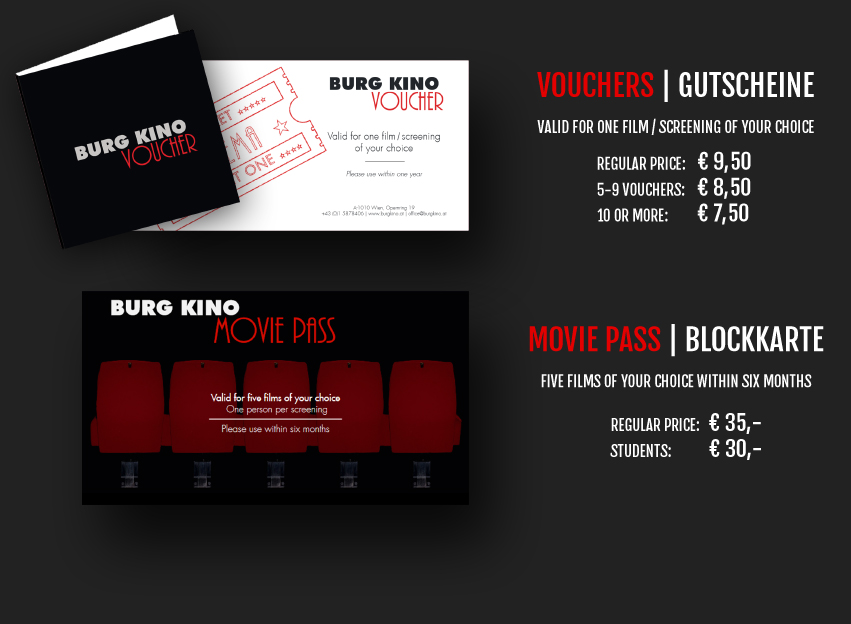 Discounts:
Movie Monday (except holidays and special screenings): € 7.-
Reduced rates of € 8.- (Tue - Sun) for club Ö1 members, Club Wien members, senior citizens, students (over 26) & handicapped
Reduced rates of € 7.- (Mon - Thu, except holidays) as well as € 8.- (Fri - Sun, plus holidays) for students (under 26), pupils, civil & military servants, 'European Youth Card' owners, 'Kulturpass' owners & unemployed
Surcharges of € 0.50, 1.-, 1.50 or 2.- may apply for long movies (>130 min.) or special performances.
Opening hours:
Our ticket office opens 30 min. before the first screening (cash only).
Tickets can be reserved under "Showtimes". A click on the desired showing will direct you to our ticket reservation site. After a one-time registration you can submit your reservation.
Großer Saal
Ground floor row 1-3 € 8.00
Ground floor row 4-11 € 9.50
Ground floor side 2-5 € 8.00
Balcony row 1-6 € 9.50
Balcony side 1-3 € 8.00
Studio