Poster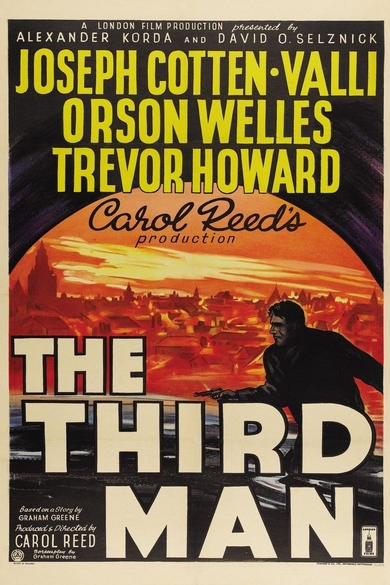 Cast
Joseph Cotten (Holly Martins), Alida Valli (Anna Schmidt), Orson Welles (Harry Lime), Trevor Howard (Major Calloway), Bernard Lee (Sergeant Paine), Paul Hörbiger (Porter), Siegfried Breuer (Popescu), Erich Ponto (Dr. Winkel), Ernst Deutsch ('Baron' Kurtz)

We show THE THIRD MAN in the original English version without subtitles at least three times a week: Friday night (around 10.40 pm to 11 pm) as well as Sunday and Tuesday afternoon (starting times vary). The exact times for the following week (Fri-Thu) as well as occasional extra performances are scheduled every Tuesday and will be published above.

*VIS short film special on Friday, May 31 at 11 pm: "The Third Dad" (10 min.) + "The Third Man"


Plot Outline
An American pulp writer arrives in Vienna only to find that the friend who waited for him is killed under mysterious circumstances. The ensuing mystery entangles him in his friend's involvement in the black market, with the multinational police, and with his Czech girlfriend.
Carol Reed's classic thriller set in postwar Vienna, once voted "Best British film ever made" by the British Film Institute.
Please note that we start almost on time since we don't show any trailers before THE THIRD MAN.